LAURA BANNISTER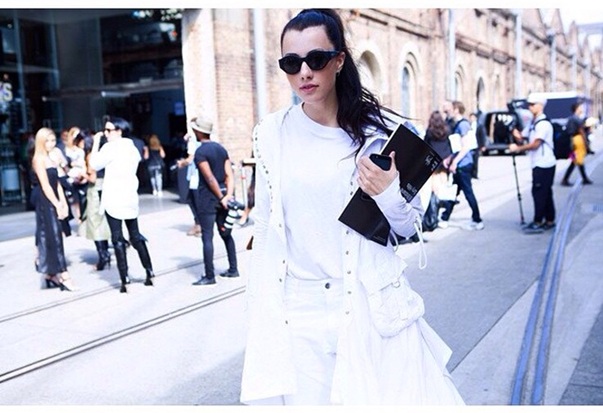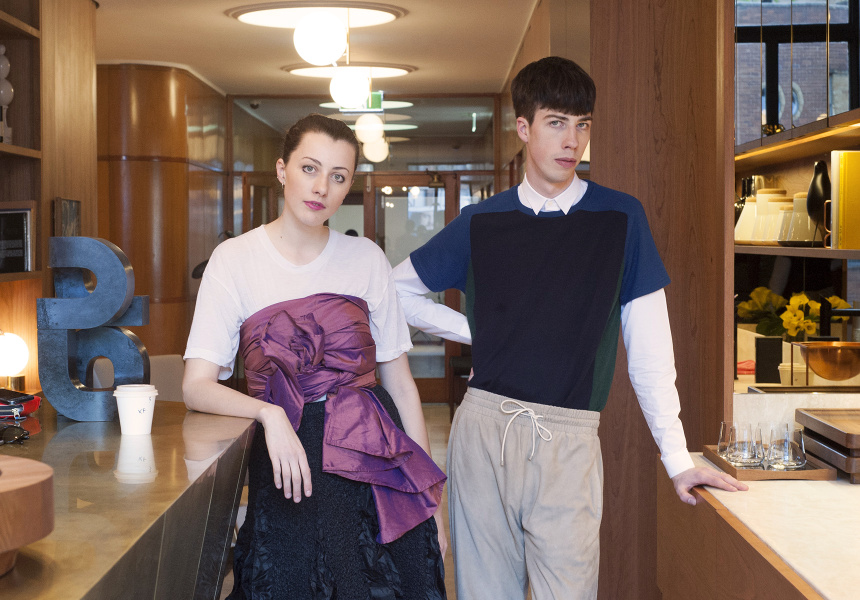 Words: Bianca Healey
Images: VAMFF, ASOS, Hayley Morgan
Laura strikes me as the kind of person that people are constantly turning their heads to look back at while walking down the street. It's not the model effect (although she gives great face), but she has an energy about her- the kind that draws you to certain circles at parties; the hand that reaches out to pull you into a pulsating dance floor at 3am. You get a sense of this in her writing too- it's precise, sophisticated and metaphor-driven. Her writing succeeds in creating images that manage to infuse a sentence with something more than the sum of its parts- you can taste, smell and hear as well as see (akin to novelists like Donna Tartt, who can't help but infuse even abstract ideas with a character, a sense of place).
And it's that ability to project a sense of the fantastic and exotic onto the everyday that best reflects her startling prolific career as an editor and writer.
Laura has founded two magazines before the age of twenty-six; BRACE, a collaboration between Laura and a friend in New York, and now MUSEUM, which she edits biannually, along with her brother, who serves as Art Director. You can also find her work in print, and across the internet in the likes of The Last Magazine, Two Thousand and Broadsheet. Like all of us, Laura juggles her reading with the demands of a busy life, but is lucky to have determined a career in which the pleasures of personal reading consistently inform and complement her roles as writer and editor. Reading Laura's responses, I could trace threads of ideas, influences and straight-out subjects of her work in her magazines, from punk and underground drug subcultures, to the very academic grounding that informs her work.
Over email, Laura half-apologised for the serious tone of her responses to my many questions ('Please see my answers, hopefully they're OK and not too wank-y'). Of course, her written answers to my many questions were perfect, and continually reiterated what is obvious in each word of this interview- a total devotion to the written word, built in as if a character trait, but of course, deliberately honed over years of seeking out texts, to become as natural as an athlete's muscle memory. Her final lines as we sign off on our correspondence seem to capture her sentiments on reading best;
'Not sure if I got it across, but I love books, and I've always surrounded myself with them- I spend a lot of time in public libraries and bookstores. I find it a really pleasurable experience, and a total indulgence.'
….
Influences
BH: What kinds of books did you read when you were young?
LB: I lapped up very wholesome British adventure books. There was a lot of Enid Blyton – moving from Adventures of The Wishing Chair to The Faraway Tree series and stories about deviant school children (I believe 'naughty' featured in the title), to The Secret Seven, The Famous Five and The Five Find-Outers.
Roald Dahl was obviously a big one, as was C.S. Lewis – and in the very early days I listened to a lot of Beatrix Potter on audio CD. I was a very keen writer myself and determined to be an author, so I would pick up interesting words and write them down in my many notebooks. I remember I liked the sound of 'soporific' when I first heard it in 'The Tale of The Flopsy Bunnies.'
BH: What most influenced you as a young reader? Did you have an adult figure in your life that influenced your reading choices?
LB: At the beginning, it was always my mother. She is a boisterous reader; she consumes a book per week. She moves at a rapid pace and she always understood the importance of imagination. Instead of holiday sports, she enrolled me – upon my request – in creative writing classes with Duncan Ball and Morris Gleitzman. Whenever a new Harry Potter book was released, we would line up as a family and purchase three copies. That ensured my brother, my mum and myself could all read it at the same time. We'd sit in silence, slumped across various cushioned surfaces, eyes darting across fresh pages.
BH: Is there a childhood book that you still return to? What value does it still hold for you?
LB: I'm racking my brains and I cannot think of any! My apologies.
BH: Are there any books that made you think of writing in a different way? Not only wanting to be a reader but also maybe wanting to be a writer?
LB: I had always wanted to be a novelist, as far back as I can remember. I can't really pinpoint a book that did it for me, if you know what I mean.
BH: Is there a book, or books you can think of that profoundly affected the way you approach the world? Is there a book that affected the direction your career took?
LB: See the final question. Authors like Nabokov really demonstrated what language can do.
Habits
BH: What are your reading habits? Do you read every day? Do you only read on the weekend? Do you enjoy reading more than one book at once?
LB: Who enjoys reading several books at once?! I've never been partial to it, though I am a serial offender, I misplace them, I forget them somewhere, I need something to read and begin a new novel. I read at night or on the weekend. I wish there was more time.
BH: Do you choose books based on the cover? Have you ever sought out a vintage or first edition cover?
LB: When I was in high school I trawled antique shops for hardback copies of Alice in Wonderland. I found, very quickly, that I should have been more original and sought out an author with a less cultish fan-base. Copies were few and far between. But I liked the word play and literary nonsense of Charles Dodgson, and I was intrigued by his slightly disturbing biography – particularly the loss of volumes from his personal diaries around the time of his friendship with the Liddell family.
BH: Do you read magazines or journals? What are your favorite titles and why? What do you look for in magazines that you can't find in novels?
LB: Of course. Most frequently, I read Document, POP and Arena Homme +, Art Review, ArtForum, etc. I have a lot of Acne Paper and I always buy Mono Kultur, an interview magazine based in Berlin. The Paris Review interview archive is fantastic, and I try to read a couple per week. I also have a nice collection of old BUTT magazines on loan from a friend, Ivan Cheng.
BH: What is your most favoured form? Non-fiction, novels, short stories, poetry, journals, magazines?
LB: Fictional novels and magazines.
BH: What do you gain from reading that you cannot find elsewhere?
LB: Respite.
BH: Are you protective of your books? Do you lend them to people? Are you strict?
LB: I'm not protective. I always lend books, however I do make mental notes against those who mistreat them. They're usually a little dog-eared anyway.
BH: Have you read a book on a kindle? Do you have a stance, or preference either way? LB: I have not! I read the paper on my iPad (The Guardian, The New York Times, etc) but I still buy physical books and magazines. I usually have some form of hard reading material in my bag.
Tastes
BH: What kinds of books do you seek out? Do you read to escape, challenge yourself, learn…?
LB: At the moment I am mainly reading philosophical fiction. And I read it to achieve all of the above.
BH: Do you read books that you know won't be pleasurable? Do you ever read 'difficult' books?
LB: It's hard to push through when it isn't enjoyable. I've always associated reading with pleasure, so I usually give up if I'm not feeling it. It's less because a book is too 'hard' and more because it's not engaging.
BH: Where do you look for recommendations?
LB: I usually find that one writer naturally leads me to another.
BH: What kind of reading material have you been seeking out recently? What have you read recently and really loved?
LB: Right now I'm reading The Brothers Karamazov by Dostoyevsy and A Moveable Feast by Ernest Hemmingway. Before that, I read Malouf's The Writing Life and Sartre's Nausea. I always enjoy Murakami, plenty of space and lightness in his novels.
My brother is a designer and I've been considering purchasing The Secret Sense of Japanese Magazine Design from Published Art for him, but really for me to borrow.
BH: Are there books that you're sentimental about? Do you re-read any books?
LB: I rarely re-read books but I do take notes in them as I read them, or write out particular passages that hold some salience for me at the time. That said, I re-read poetry a lot. It's easy to come back to. I have a nice little book by Pasolini, a collection titled Roman Poems, that I dive in and out of, and I've always liked Patti Smith's The Coral Sea and Bukowski's The Continual Condition.
BH: What are your most beloved books? What value do they hold for you?
LB: I think humans are self-involved even in moments of escapism, so sentimentality comes easily when a book reflects something of ourselves, or aligns with personal experience. For me, it's literature that kick-started a new reading direction or way of thinking. The Picture of Dorian Gray was seminal. It pointed me to Rimbaud and the symbolists and Taoism and the aestheticism and decadence movements. From there, you can also make a tour through once-banned literature. I have a soft spot for Raymond Chandler, though Playback felt clunky. The Trial by Kafka was important for me, as was Lolita and in university there was a lot of basic socialist literature. Predictably, I had a big Beat period too, with Burroughs and Kerouac and Ginsberg. And then The Unbearable Lightness of Being – there was always something about that book. Trainspotting, Skagboys, Porno, Filth, Marabou Stork Nightmares – all the Welsh stuff put me on the trail of heroin literature, and it ended really nicely with Candy, which is a truly beautiful novel. A Brief History of Curating by Hans Ulrich Obrist. Narcissus and Goldmund by Herman Hesse.
Respite, escape and recent reads… care of Laura Bannister
Fyodor Dostoyevsky, The Brothers Karamazov
Ernest Hemingway, A Moveable Feast
David Malouf, The Writing Life
Jean-Paul Sartre, Nausea
The Secret Sense of Japanese Magazine Design , by Published Art
Oscar Wilde, The Picture of Dorian Gray
Franz Kafka, The Trial
Vladimir Nabokov, Lolita
Milan Kundera, The Unbearable Lightness of Being
Irvine Welsh, Trainspotting
Luke Davies, Candy
Hans Ulrich Obrist, A Brief History of Curating
Herman Hesse, Narcissus and Goldmund
Poetry
Pier Paolo Pasolini, Roman Poems
Patti Smith, The Coral Sea
Charles Bukowski, The Continual Condition